Early Warning Signs of Cataracts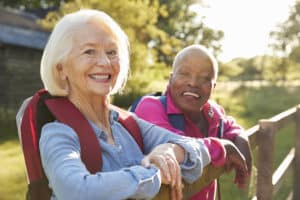 The majority of people rank sight as the most important of the five senses. We use vision every second of the day – from the time we wake up to the time we go to bed. When vision is compromised by cataracts or other vision disorders it makes a huge impact on daily life.
Changes in vision caused by cataracts are often subtle, gradual changes taking place over months or even years. It's important to be mindful of the early warning signs of cataracts so you can identify them and take action quickly to restore clear vision.
What Are The Early Warning Signs of Cataracts?
Cloudy Vision

A cataract is a clouding of the natural lens in the eye. Because of the cloudiness, light no longer has a clear path to the back of the eye which makes it increasingly difficult for a persona to see clearly. Over time cloudiness gets worse and makes daily activities like driving – especially at night – extremely difficult and potentially unsafe.

Difficulty Seeing At Night

You may not notice symptoms during the day because there is enough light to compensate but vision issues become apparent at night. Because cataracts often cause vision to darken or dim, night vision becomes increasingly impaired and presents dangers when operating a vehicle or heavy machinery in the evening or early morning hours.

Light Sensitivity

Experiencing discomfort from bright lights is common in specific instances. However, if you're experiencing early cataract symptoms you will notice discomfort with bright lights more frequently, especially from headlights when driving at night.

Glow & Halos

Seeing glowing edges or halos around lights – especially at night – is a strong indication that cataracts are affecting your vision. The cloudy lens scatters light as it enters the eye creating a distorted appearance which can be very distracting and pose safety risks.

Frequently Changing Glasses & Contacts

Updating the prescription strength of your glasses and/or contact is also a sign of cataracts. Typically, these should only be updated every few years, not every 6-12 months.
Cataract surgery is the most commonly performed procedure in the United States. With the use of today's technology, like the state-of-the-art laser equipment used at ReVision LASIK & Cataract Surgery, the surgery is extremely safe and often takes less than ten minutes per eye.
Coping with or managing cataracts isn't necessary and could compromise safety and overall quality of life. Vision correction is a very personal, life-changing decision. When you notice a change in your vision – or the vision of a loved one – contact ReVision LASIK & Cataract Surgery for a personal consultation to discuss all the available treatment options to help you reclaim clear vision from cataracts.
The first Tuesday in December is known as 'Giving Tuesday', a day to give back to the communities in which we live. ReVision Gives Back couldn't have chosen a more ...
Read More

→
Bringing ALL the voices together; it's how to create beautiful harmony and a beautiful community. Harmony Project lives that mission every day which makes this group a perfect non-profit for ...
Read More

→
Pediatric cancer is relentless; which is why services provided by Angel Works are priceless. After meeting Ellie Hite, Founder of the local non-profit, and hearing countless heartwarming and gut wrenching ...
Read More

→