How Common is Heterochromia in Humans?
Only about 11 out of every 1,000 Americans have heterochromia, a condition that results in two differently colored eyes. This trait is commonly found in animals and is relatively rare in humans and, in many human cases, the condition is hardly noticeable.
What Are The Causes of Heterochromia?
The condition can be hereditary and harmless or it can be caused by a disease or syndrome like neurofibromatosis, which is when tumors form on nerve tissue within the nervous system. The condition can be present at birth, or acquired later in life. An eye injury, serious infection or inflammation may cause heterochromia.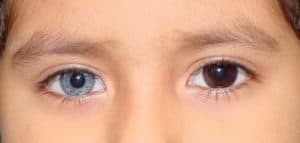 Complete, Sectoral and Central Heterochromia
There are different types of heterochromia – complete, sectoral and central. When each eye is an entirely different color, this is known as complete heterochromia. Central heterochromia occurs when there are two colors in the same iris. A section of one eye that is a different color from the rest of the eye is called sectoral heterochromia.
Be sure to contact your eye doctor if you notice any new changes in the color of your eyes as a sudden discoloration may be an indication of a serious medical issue.
https://www.revisioneyes.com/wp-content/uploads/2021/05/RGB_BlessingBoxes_0421.mp4 ReVision Gives Back joined forces with a few local partners to bring visibility to an issue impacting every community, food insecurity. The Columbus Blessing Boxes Project, a non-profit ...
Read More

→
https://www.revisioneyes.com/wp-content/uploads/2021/04/RGB_AtHomeByHigh_Final_0321.mp4 Pandemic living has taught us how important it is to connect with others, regardless of age. Prior to COVID-19, many older adults were already dealing with a lack ...
Read More

→
https://www.revisioneyes.com/wp-content/uploads/2021/03/COSI-Connects-promo_compressed.mp4 In a time when everyone is keeping their distance, ReVision Gives Back was excited to honor COSI for thinking 'inside the box' to create unique ways to connect ...
Read More

→