How Common is Heterochromia in Humans?
Only about 11 out of every 1,000 Americans have heterochromia, a condition that results in two differently colored eyes. This trait is commonly found in animals and is relatively rare in humans and, in many human cases, the condition is hardly noticeable.
What Are The Causes of Heterochromia?
The condition can be hereditary and harmless or it can be caused by a disease or syndrome like neurofibromatosis, which is when tumors form on nerve tissue within the nervous system. The condition can be present at birth, or acquired later in life. An eye injury, serious infection or inflammation may cause heterochromia.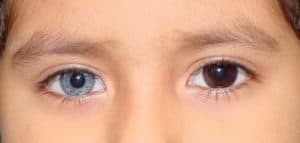 Complete, Sectoral and Central Heterochromia
There are different types of heterochromia – complete, sectoral and central. When each eye is an entirely different color, this is known as complete heterochromia. Central heterochromia occurs when there are two colors in the same iris. A section of one eye that is a different color from the rest of the eye is called sectoral heterochromia.
Be sure to contact your eye doctor if you notice any new changes in the color of your eyes as a sudden discoloration may be an indication of a serious medical issue.
Tennis, fitness and fun are key pillars that make Buddy Up Tennis an impactful non-profit in the Columbus community. Inspired by her own Down syndrome child with a passion for ...
Read More

→
ReVision LASIK and Cataract Surgery embraces a philosophy of caring and kindness. A non-profit spreading that uplifting message in Columbus and beyond is the Nina West Foundation. Led by Nina ...
Read More

→
ReVision LASIK and Cataract Surgery has a deep appreciation for those who serve our Nation. As the son of a WWII Army Air Corps B-24 Pilot, Dr. Schumer grew up ...
Read More

→