How Common is Heterochromia in Humans?
Only about 11 out of every 1,000 Americans have heterochromia, a condition that results in two differently colored eyes. This trait is commonly found in animals and is relatively rare in humans and, in many human cases, the condition is hardly noticeable.
What Are The Causes of Heterochromia?
The condition can be hereditary and harmless or it can be caused by a disease or syndrome like neurofibromatosis, which is when tumors form on nerve tissue within the nervous system. The condition can be present at birth, or acquired later in life. An eye injury, serious infection or inflammation may cause heterochromia.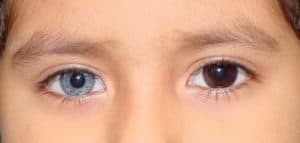 Complete, Sectoral and Central Heterochromia
There are different types of heterochromia – complete, sectoral and central. When each eye is an entirely different color, this is known as complete heterochromia. Central heterochromia occurs when there are two colors in the same iris. A section of one eye that is a different color from the rest of the eye is called sectoral heterochromia.
Be sure to contact your eye doctor if you notice any new changes in the color of your eyes as a sudden discoloration may be an indication of a serious medical issue.
https://www.revisioneyes.com/wp-content/uploads/2023/09/RGB_Passport2Fashion_Alishia_Designer_0823.mp4 Passport 2 Fashion Founder Aditi Bhatiya wants everyone to know the future of fashion IS ALL OF US. The future of fashion IS YOU. WATCH VIDEO featuring Aditi ...
Read More

→
https://www.revisioneyes.com/wp-content/uploads/2023/09/RGB_SeeKidsDream_Kickoff_0723.mp4 Classrooms around the community can get in on giving back thanks to ReVision Gives Back honoree, See Kids Dream. See Kids Dream is a nonprofit bringing FREE service-based learning ...
Read More

→
ReVisionaries LOVE pets and ReVision Gives Back honoree, SOS of Ohio, does too! This outstanding nonprofit provides low cost, high quality veterinary services for pet parents & rescue groups in ...
Read More

→