Giving Back to a Non-Profit Growing the Community
A small but very mighty non-profit leads the charge to make Mansfield an unforgettable community in Ohio and they are doing an outstanding job! Mansfield, Ohio holds a special place in the heart of ReVision and its Founder, Dr. James Schumer. He began the practice there more than 26 years ago and continues to be a resident of this close-knit community.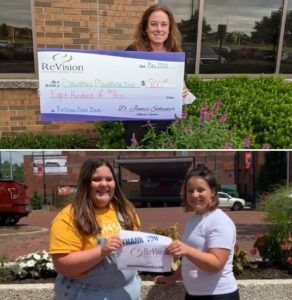 ReVision Gives Back was excited to name Downtown Mansfield, Inc. as our May honoree. This local non-profit is focused on harnessing the energy and creative talents of the Mansfield community to create a desirable place to work, live and visit. Through special event, revitalization, and beautification initiatives, DMI attracts businesses and customers to the city center.
Every May, DMI leads a community planting initiative to beautify the downtown area by filling hundreds of planters with colorful blooms for visitors to enjoy throughout the summer. COVID-19 made this year's PlantLove2020 initiative challenging but with an amazing outpouring of volunteer and funding support, DMI planted more than 1,000 flowers in over 130 planters in just two days.
The ReVision Gives Back donation helped fund the PlantLove2020 beautification initiative that will bring vibrant color, beauty, and joy to the downtown area for months to come. ReVision Gives Back is proud to honor DMI, Inc. and help this outstanding non-profit continue to grow the local economy!
Get to know more about Downtown Mansfield, Inc. and how you can support their mission through volunteer and donation opportunities.
Pediatric cancer is relentless; which is why services provided by Angel Works are priceless. After meeting Ellie Hite, Founder of the local non-profit, and hearing countless heartwarming and gut wrenching ...
Read More

→
Columbus is a growing hub for fashion thanks in part to the tireless efforts of the Columbus Fashion Council. This local non-profit champions creative talents through scholarships and programs like ...
Read More

→
By: Dr. James Schumer, Ophthalmologist and Founder ReVision LASIK & Cataract Surgery COVID-19 has altered the way we see the world. With new information developing daily and safety measures continuing ...
Read More

→