Giving Thanks to a Non-Profit Bringing Harmony to Our Community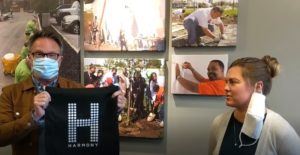 Bringing ALL the voices together; it's how to create beautiful harmony and a beautiful community. Harmony Project lives that mission every day which makes this group a perfect non-profit for the ReVision Gives Back program to honor.
Harmony Project empowers the voices of the people through arts, education, and volunteerism. This local nonprofit bridges community divides through a 500-voice volunteer chorus and by providing arts programming for those in prisons, schools, and shelters.
Thanksgiving Day Meal Delivery Program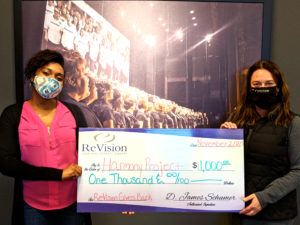 During the month of November, ReVision Gives Back proudly supported Harmony Project's Thanksgiving Meal delivery program. This annual campaign to feed local families on Thanksgiving Day was reimagined this year due to COVID-19 safety protocols. With support and food preparation from longtime partner Hubbard Grille, those living in transitional housing enjoyed a packaged, freshly prepared meal delivered to their home on Thanksgiving Day. Learn more about the meal delivery from David Brown, Creative Director at Harmony Project.
ReVision Gives Back proudly donated funds to assist in the purchase of these meals that provide much needed nourishment and encouragement to those in our community. Learn more about Harmony Project and how you can get involved by visiting their website.
Great things are happening with vision in schools thanks to the Ohio Optometric Foundation (OOF) and their fellow nonprofit vision partnerships. OOF brings three dynamic 'iSee' programs providing vision care ...
Read More

→
https://www.revisioneyes.com/wp-content/uploads/2022/08/Altrusa_Mansfield_KickOff_0722.mp4 The members of Altrusa Mansfield are committed to making Richland County a great place to live, work, and play. The nonprofit leads several community initiatives to provide resources, ...
Read More

→
https://www.revisioneyes.com/wp-content/uploads/2022/07/Franklinton_Cycle_Works_0621.mp4 Summer and cycling go hand-in-hand so honoring Franklinton Cycle Works during the first official month of summer was perfect timing! This unique nonprofit is building more than bikes ...
Read More

→