Giving Thanks to a Non-Profit Bringing Harmony to Our Community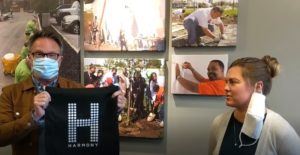 Bringing ALL the voices together; it's how to create beautiful harmony and a beautiful community. Harmony Project lives that mission every day which makes this group a perfect non-profit for the ReVision Gives Back program to honor.
Harmony Project empowers the voices of the people through arts, education, and volunteerism. This local nonprofit bridges community divides through a 500-voice volunteer chorus and by providing arts programming for those in prisons, schools, and shelters.
Thanksgiving Day Meal Delivery Program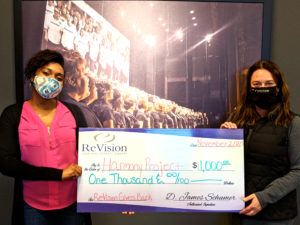 During the month of November, ReVision Gives Back proudly supported Harmony Project's Thanksgiving Meal delivery program. This annual campaign to feed local families on Thanksgiving Day was reimagined this year due to COVID-19 safety protocols. With support and food preparation from longtime partner Hubbard Grille, those living in transitional housing enjoyed a packaged, freshly prepared meal delivered to their home on Thanksgiving Day. Learn more about the meal delivery from David Brown, Creative Director at Harmony Project.
ReVision Gives Back proudly donated funds to assist in the purchase of these meals that provide much needed nourishment and encouragement to those in our community. Learn more about Harmony Project and how you can get involved by visiting their website.
Halt Violence is a grassroots nonprofit committed to saving lives and changing minds through street mediation. The organization is actually on the streets of Columbus' most violent neighborhoods talking to ...
Read More

→
https://www.revisioneyes.com/wp-content/uploads/2023/09/RGB_Passport2Fashion_Alishia_Designer_0823.mp4 Passport 2 Fashion Founder Aditi Bhatiya wants everyone to know the future of fashion IS ALL OF US. The future of fashion IS YOU. WATCH VIDEO featuring Aditi ...
Read More

→
https://www.revisioneyes.com/wp-content/uploads/2023/09/RGB_SeeKidsDream_Kickoff_0723.mp4 Classrooms around the community can get in on giving back thanks to ReVision Gives Back honoree, See Kids Dream. See Kids Dream is a nonprofit bringing FREE service-based learning ...
Read More

→