iSee a Nonprofit in the Classroom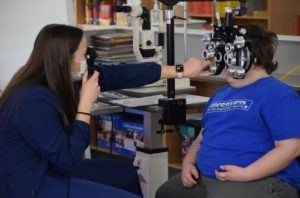 Great things are happening with vision in schools thanks to the Ohio Optometric Foundation (OOF) and their fellow nonprofit vision partnerships. OOF brings three dynamic 'iSee' programs providing vision care to students in grades pre-K through 12 throughout Ohio. No charge is incurred by the student, family, or school for any eye exams or eye glasses.
Go to ReVision's Facebook page to watch videos about OOF, the Vision To Learn van, and volunteer opportunities. 
iSee Makes a Difference in the Classroom
iSee 2-Day Events bring eye exams into the school. Doctors of optometry volunteer to provide comprehensive eye exams to students who have failed school screenings or who are identified by school officials to have a visual need.
The iSee Community-Based Optometrist program is a great way for a local doctor to connect and give back to their community. OOF loans portable exam equipment to the doctor to take into his/her school of choice to conduct free exams.
iSee with Vision To Learn is a uniquely wonderful partnership between OOF, the Foundation for Appalachian Ohio, and Vision To Learn. An impressive mobile clinic with employed optometrists and opticians travels to schools in the 32 underserved Appalachian Ohio counties to provide complimentary eye exams and eye glasses.
To date, OOF has provided over 1,800 eye exams with over 86% of those students receiving eyeglasses.
Local Optometrists Donate Expertise & Time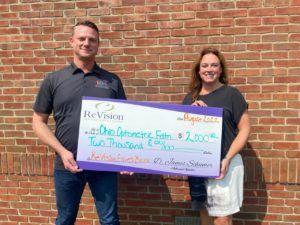 The Ohio Optometric Foundation encourages all Optometrists to get involved and give back to the communities where they reside and work by donating their professional services. This support is vital to ensuring all children receive proper vision care and are setup for success in the classroom. The ReVision Gives Back donation will help continue to fund the iSee programs and the life-changing work this nonprofit bring into our schools.
To learn more about volunteer opportunities and ways to support this outstanding nonprofit, visit https://ohiooptometricfoundation.org/
Halt Violence is a grassroots nonprofit committed to saving lives and changing minds through street mediation. The organization is actually on the streets of Columbus' most violent neighborhoods talking to ...
Read More

→
https://www.revisioneyes.com/wp-content/uploads/2023/09/RGB_Passport2Fashion_Alishia_Designer_0823.mp4 Passport 2 Fashion Founder Aditi Bhatiya wants everyone to know the future of fashion IS ALL OF US. The future of fashion IS YOU. WATCH VIDEO featuring Aditi ...
Read More

→
https://www.revisioneyes.com/wp-content/uploads/2023/09/RGB_SeeKidsDream_Kickoff_0723.mp4 Classrooms around the community can get in on giving back thanks to ReVision Gives Back honoree, See Kids Dream. See Kids Dream is a nonprofit bringing FREE service-based learning ...
Read More

→