Honoring a Non-Profit Who Knows the Best Protection is Early Detection
One in eight women will be diagnosed with breast cancer in their lifetime. This important – and staggering – statistic is often shared by Meg's Mission for Mammograms, a local non-profit committed to educating women on the importance of early detection.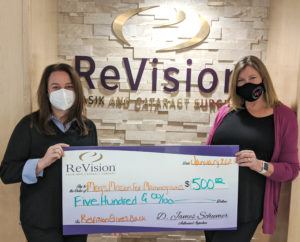 This outstanding organization was founded by Meg, a Columbus native whose own breast cancer was detected by a routine mammogram. Through her own experience, Meg saw a need for education and advocacy in our community. Meg responded by creating a non-profit to raise funds and remove financial barriers that may discourage women from seeking a potentially life-saving mammogram test. Hear Meg's story in her own words.
The donation from ReVision Gives Back will help Meg's Mission provide financial assistance to more local women in need of mammogram testing. ReVision is inspired by Meg and her commitment to turn a personal battle into a public mission to help others.
Learn more about Meg's Mission for Mammograms and how you can get involved by visiting their website.
Great things are happening with vision in schools thanks to the Ohio Optometric Foundation (OOF) and their fellow nonprofit vision partnerships. OOF brings three dynamic 'iSee' programs providing vision care ...
Read More

→
https://www.revisioneyes.com/wp-content/uploads/2022/08/Altrusa_Mansfield_KickOff_0722.mp4 The members of Altrusa Mansfield are committed to making Richland County a great place to live, work, and play. The nonprofit leads several community initiatives to provide resources, ...
Read More

→
https://www.revisioneyes.com/wp-content/uploads/2022/07/Franklinton_Cycle_Works_0621.mp4 Summer and cycling go hand-in-hand so honoring Franklinton Cycle Works during the first official month of summer was perfect timing! This unique nonprofit is building more than bikes ...
Read More

→