Honoring a Non-Profit Who Knows the Best Protection is Early Detection
One in eight women will be diagnosed with breast cancer in their lifetime. This important – and staggering – statistic is often shared by Meg's Mission for Mammograms, a local non-profit committed to educating women on the importance of early detection.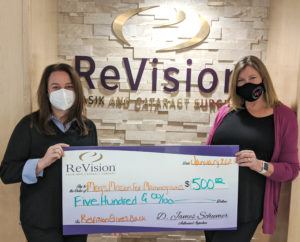 This outstanding organization was founded by Meg, a Columbus native whose own breast cancer was detected by a routine mammogram. Through her own experience, Meg saw a need for education and advocacy in our community. Meg responded by creating a non-profit to raise funds and remove financial barriers that may discourage women from seeking a potentially life-saving mammogram test. Hear Meg's story in her own words.
The donation from ReVision Gives Back will help Meg's Mission provide financial assistance to more local women in need of mammogram testing. ReVision is inspired by Meg and her commitment to turn a personal battle into a public mission to help others.
Learn more about Meg's Mission for Mammograms and how you can get involved by visiting their website.
https://www.revisioneyes.com/wp-content/uploads/2021/05/RGB_BlessingBoxes_0421.mp4 ReVision Gives Back joined forces with a few local partners to bring visibility to an issue impacting every community, food insecurity. The Columbus Blessing Boxes Project, a non-profit ...
Read More

→
https://www.revisioneyes.com/wp-content/uploads/2021/04/RGB_AtHomeByHigh_Final_0321.mp4 Pandemic living has taught us how important it is to connect with others, regardless of age. Prior to COVID-19, many older adults were already dealing with a lack ...
Read More

→
https://www.revisioneyes.com/wp-content/uploads/2021/03/COSI-Connects-promo_compressed.mp4 In a time when everyone is keeping their distance, ReVision Gives Back was excited to honor COSI for thinking 'inside the box' to create unique ways to connect ...
Read More

→