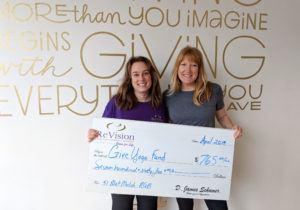 ReVision LASIK and Cataract Surgery is proud to support a local small business going above and beyond to give back to the communities it serves. GIVE  Yoga focuses on the complete transformational power of yoga. GIVE created the Give Yoga Fund to increase access to yoga; a practice that can positively impact the mind, body and spirit.
The GIVE Yoga fund is committed to making the tools of yoga and mindfulness available to all regardless of socioeconomic status or background. Through the fund, grants are provided to Columbus nonprofits in an effort in increase access to yoga in specific communities and settings through outreach.
ReVision Gives Back partnered with GIVE Yoga for a special Mat Match donation drive. During the month of April, gently used mats were donated at ReVision LASIK & Cataract Surgery and GIVE locations. For every mat collected, ReVision Gives Back donated funds to the GIVE Yoga Fund to purchase new mats. All mats – gently used and new – will be used by students participating in yoga outreach classes led by GIVE instructors throughout the Columbus community.
Generous yogis retired 51 mats during the 30-day April collection. To match those donations, ReVision Gives Back gave $765 to purchase brand new yoga mats. These yoga mats will be made available for students to use during GIVE Yoga outreach programs at places like Huckleberry House and Columbus City Schools.
ReVision Gives Back salutes GIVE Yoga for their 'come as you are' commitment to welcome everyone to experience the power of yoga. Learn more about the GIVE Yoga Fund and how you can show your support by visiting: https://www.giveyoga.com/fund
ReVision LASIK & Cataract Surgery is committed to providing solutions that allow patients to enjoy the best possible vision at all stages of life. These solutions increase a patient's clarity, ...
Read More

→
https://www.revisioneyes.com/wp-content/uploads/2021/12/RGB_ReachingOutMinistries_1121.mp4 Winter in Ohio can often mean extremely low temperatures, snow, and freezing rain. As the thermometer drops, many of us find shelter from the elements in the comfort ...
Read More

→
https://www.revisioneyes.com/wp-content/uploads/2021/11/RGB_Columbus_Zoo_KickOff_1021.mp4 The sea lions at the Columbus Zoo and Aquarium's Adventure Cove have a unique connection with ReVision LASIK & Cataract Surgery. What's the connection? Vision! Eye Drops Help ...
Read More

→