Helping Veterans Enter the Workforce with Confidence
Transitioning to civilian life from the armed services can be challenging, especially when seeking employment. The Overwatch Partnership recognized this need as an opportunity to help veterans succeed. This local non-profit provides support through mentorship, career development assistance, and hiring advocacy to ensure veterans enter the workforce with confidence and a strong network of support. Hear from Mike Rogers, a founding member of The Overwatch Partnership, as he shares more about the services provided to veterans through this outstanding non-profit.
Working Together To Give More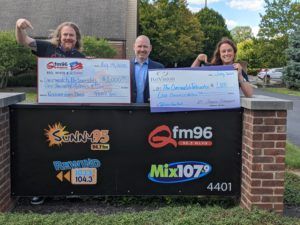 ReVision partnered with the QFM96 Red, White & Q Fund to raise even more funds through a dollar-for-dollar donation match. Every donation made to the Red, White & Q Fund by listeners during the month of July was given to The Overwatch Partnership and matched by ReVision. "QFM96 is really excited about this partnership", said Archie, a QFM96 radio personality who has been involved in the Red, White & Q Fund since it began.
The Overwatch Partnership will use our donation to provide more local veterans with the resources needed to secure a civilian career best suited to their skill set. Get to know more about The Overwatch Partnership and how you can support their mission through volunteer and donation opportunities.
Great things are happening with vision in schools thanks to the Ohio Optometric Foundation (OOF) and their fellow nonprofit vision partnerships. OOF brings three dynamic 'iSee' programs providing vision care ...
Read More

→
https://www.revisioneyes.com/wp-content/uploads/2022/08/Altrusa_Mansfield_KickOff_0722.mp4 The members of Altrusa Mansfield are committed to making Richland County a great place to live, work, and play. The nonprofit leads several community initiatives to provide resources, ...
Read More

→
https://www.revisioneyes.com/wp-content/uploads/2022/07/Franklinton_Cycle_Works_0621.mp4 Summer and cycling go hand-in-hand so honoring Franklinton Cycle Works during the first official month of summer was perfect timing! This unique nonprofit is building more than bikes ...
Read More

→