Is Laser Eye Surgery Painful?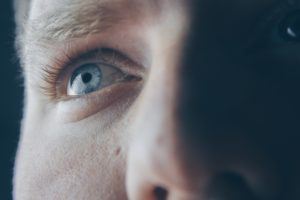 If you're ready to give up on contacts and glasses, LASIK eye surgery could be the best solution to improve your eyesight while providing you with visual freedom. Despite its benefits, some individuals are nervous about the idea of laser eye surgery, wondering if it is painful. At ReVision, our team of knowledgeable eye surgeons are dedicated to helping patients enjoy the benefits of clear vision through procedures including laser eye surgery. As your trusted eyecare professionals, we want to alleviate any anxiety over this life-changing procedure!
Does Laser Eye Surgery Hurt?
Laser-assisted in situ keratomileusis (LASIK) eye surgery is a quick and safe vision correction procedure. Numbing eye drops are used to completely numb the eye before the procedure. You may also choose to take an oral medication to help you relax.
During LASIK, a laser is used to create a flap which is then lifted to expose the cornea. Then, the laser creates a permanent shape change on the front of the cornea and the flap is replaced.
During the procedure, you may feel some pressure. It is normal to experience mild burning, scratchiness and eye watering after surgery. It is best to go home and sleep for a few hours immediately following the procedure. When you wake, most of these symptoms will have subsided. You will be given a protective shield to wear while sleeping to prevent you from rubbing your eyes along with after care instructions that should be followed as instructed.
ReVision's fellowship trained eye surgeons are committed to improving your vision. Our team has the experience to make you comfortable and confident. We will develop a personalized vision solution that matches your needs and lifestyle.
What Could Potentially Cause Discomfort During LASIK Eye Surgery?
Lack of sufficient anesthetic could cause of discomfort during surgery. During LASIK, numbing drops are administered to the eye to sufficiently numb the area. An oral sedative is also offered to help keep you relaxed throughout the procedure.
LASIK is a quick, needle-free, safe procedure that takes just a few minutes to perform. With LASIK, a laser is used to reshape your cornea and improve the eyes' focusing ability. In most cases, patients can resume normal activities as soon as the next day.
Is LASIK Painful After Surgery?
During the first few hours after surgery, you may experience discomfort. This is normal. Patients are instructed to take acetaminophen to minimize discomfort, as needed. It is best to go home and sleep for a few hours immediately following the procedure.
Postoperative inflammation may occur after surgery. Administer eye drops as instructed in your post care instructions to reduce inflammation and promote healing. Discomfort should subside a few hours after the procedure. Severe pain after LASIK surgery is not normal. Contact ReVision immediately if you experience this.
LASIK surgery offers patients simplicity and freedom by decreasing dependency on glasses and contacts. Recovery time is minimal, meaning fast results for you!
Find the Best Laser Eye Surgery Center
Choose a state-of-the-art laser eye surgery center with thousands of patients who can attest to the reliable expertise of the surgeons. At ReVision, we offer a complimentary consultation where a doctor will determine whether LASIK is the appropriate treatment for you.
Our eye surgeons have the training and experience to provide exceptional solutions for your vision needs. By using the most advanced technology, we deliver precision and the best vision solutions to each patient. Contact us to schedule your complimentary LASIK consultation.
https://www.revisioneyes.com/wp-content/uploads/2023/05/RGB_FriendsOfCASA_KickOff_0423.mp4 Friends of CASA Franklin County is a tremendously important nonprofit that supports CASA of Franklin County. CASA, which stands for Court Appointed Special Advocates, is a group of ...
Read More

→
https://www.revisioneyes.com/wp-content/uploads/2023/04/RGB_AlphaHouse_KickOff_0323.mp4 A Holistic Approach to Addiction Millions of Americans struggle with substance abuse. AlphaHouse is dedicated to helping men and women win this very personal battle. AlphaHouse currently has ...
Read More

→
https://www.revisioneyes.com/wp-content/uploads/2023/03/RGB_NCH_ButterflyGuild_Kickoff_0223.mp4 Support families faced with terminal diagnoses and heartbreaking loss - the Butterfly Guild of Nationwide Children's Hospital embraces this incredibly emotional mission. By contributing financial assistance for Hospice & ...
Read More

→