Eye Drop Improves Age-Related Blurry Near Vision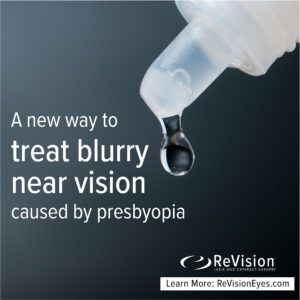 ReVision LASIK & Cataract Surgery is committed to providing solutions that allow patients to enjoy the best possible vision at all stages of life. These solutions increase a patient's clarity, comfort, and freedom from eye glasses and contact lenses. Thorough diagnostic testing and in-depth conversations with the doctor about lifestyle, hobbies, and visual goals dictate which solution is right for you.
ReVision is excited to add a new solution to our non-surgical offerings to treat presbyopia, an age-related condition resulting in blurry near vision for adults in their 40s and 50s. A prescription eye drop is now available to improve this condition that effects approximately 128 million adults in the US.
What happens when you have trouble seeing up close?
Most people are in their 40s when they start noticing problems seeing clearly up close. As we age, the lenses of our eyes become harder and less flexible, making it more difficult to see up close. These changes can lead to age-related blurry near vision, also known as presbyopia.
The onset and progression of presbyopia is gradual. You may notice the need to hold things – like your smartphone or a restaurant menu – at arm's length to be able to read the words. Or, adding more light may help see a tablet or magazine article more clearly. Eventually, these remedies don't work well enough anymore and reading glasses are a necessary accessory to bring near vision into focus.
If you've noticed changes in vision similar to these and haven't been diagnosed with presbyopia, it's time to schedule a visit at ReVision. Following a thorough eye exam to ensure the health of your eyes, you will have a conversation with the doctor about your lifestyle and vision goals. Based on these details, the doctor may recommend the presbyopia eye drop as a good option to reclaim your near vision.
How Does the Presbyopia Eye Drop Work?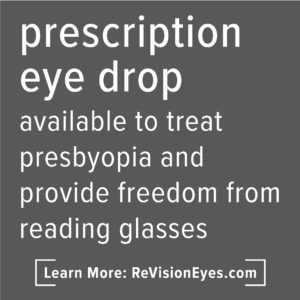 The new eye drop to treat presbyopia is a huge advancement in Ophthalmology. Use one drop daily in each eye to help improve near vision. The eye drop reduces your pupil size by contracting certain muscles in the eye to help you see up close. Soon after the drop is administered, a significant improvement in near vision is noticed with a minimal decrease in distance vision. The eye drop treatment for presbyopia is intended to increase daily convenience and freedom from reading glasses. Watch a recent segment from the Today Show as NBC News correspondent Kristen Dahlgren tried the eyedrop.   
Who Can Benefit from the Presbyopia Eye Drop?
The new presbyopia eye drop can help adults in their 40s and 50s experience improved near vision, independence from reading glasses, and added daily convenience. Those who take other eye drops can still use the presbyopia eye drop by simply administering the drops 5 minutes apart. Contact lens wearers can also use the drop. Simply remove the contacts prior to administering the eye drop, then wait 10 minutes before putting them back in. Those who have previously had LASIK can also use the drop.
The most common side effects of the eye drop were headache and eye redness. A complete list of possible side effects will be discussed during your consultation. Decide if the presbyopia eye drop is the best solution for your personal vision needs after having a conversation with your doctor.
https://www.revisioneyes.com/wp-content/uploads/2023/01/RGB_KickOff_McConnellArts_1222.mp4 The beauty, sound, and creativity of the arts brings joy to so many! ReVision Gives Back is proud to support a local arts center bringing the community together ...
Read More

→
It's truly inspiring when a young, talented athlete makes giving back to the community a priority. Paris Johnson, Jr. decided to do just that and with the help of his ...
Read More

→
The natural lens in your eye ages and begins to cloud as you get older. Everyone will eventually develop cataracts. The development of cataracts causes vision to become cloudy, blurry, ...
Read More

→