ReVision Gives Back November and December 2017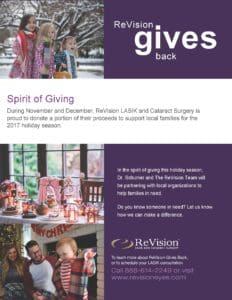 Spirit of Giving
During November and December, ReVision LASIK and Cataract Surgery is proud to donate a portion of their proceeds to support local families for the 2017 holiday season. Dr. Schumer and The ReVision Team will be partnering with local organizations to help families in need. Do you know someone in need? Let us know how we can make a difference.
To learn more about ReVision Gives back or to schedule your appointment please call (800)475-2113.
With a mission to provide hope to survivors of human trafficking, this non-profit is changing lives by pairing freedom and food. Freedom A La Cart began as a full service ...
Read More

→
https://www.revisioneyes.com/wp-content/uploads/2020/09/ReVision_DJS_Medical_Care_COVID_0920.mp4 By: Dr. James Schumer, Ophthalmologist and Founder ReVision LASIK & Cataract Surgery Dr. James Schumer COVID-19 has altered the way we see the world. With new information developing ...
Read More

→
Transitioning to civilian life from the armed services can be challenging, especially when seeking employment. The Overwatch Partnership recognized this need as an opportunity to help veterans succeed. This local ...
Read More

→