ReVision Gives Back September 2017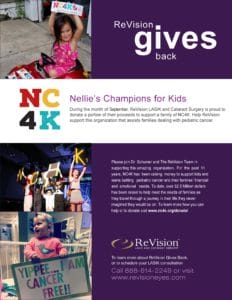 NC4K
During the month of September, ReVision LASIK and Cataract Surgery is proud to donate a portion of their proceeds to support a family of NC4K. For the past 11 years, NC4K has been raising money to support kids and teens battling pediatric cancer and their families' financial and emotional needs. To date, over $2.5 Million dollars has been raised to help meet the needs of these families. To learn more or to donate visit www.nc4k.org/donate/.
To learn more about ReVision Gives back or to schedule your appointment please call (800)475-2113.
Great things are happening with vision in schools thanks to the Ohio Optometric Foundation (OOF) and their fellow nonprofit vision partnerships. OOF brings three dynamic 'iSee' programs providing vision care ...
Read More

→
https://www.revisioneyes.com/wp-content/uploads/2022/08/Altrusa_Mansfield_KickOff_0722.mp4 The members of Altrusa Mansfield are committed to making Richland County a great place to live, work, and play. The nonprofit leads several community initiatives to provide resources, ...
Read More

→
https://www.revisioneyes.com/wp-content/uploads/2022/07/Franklinton_Cycle_Works_0621.mp4 Summer and cycling go hand-in-hand so honoring Franklinton Cycle Works during the first official month of summer was perfect timing! This unique nonprofit is building more than bikes ...
Read More

→