Recreation Fun for Everyone
Enjoying the great outdoors is therapeutic and an automatic mood booster. Riding a bicycle, paddling a canoe, and feeling the spray of water while waterskiing are activities that encourage health and wellness while bringing us closer to nature. But what if an injury or disability prohibited you from experiencing the joys of outdoor sports and recreation? Adaptive Sports Connection is a nonprofit committed to making sure EVERYONE – regardless of challenges – has the opportunity to experience the unlimited benefits of outdoor activities.
Adaptive Sports Connection utilizes the power of sports to break down barriers for veterans, children, and adults with physical and cognitive challenges. By providing adaptive equipment, these individuals can enjoy the health benefits, freedom, and sense of belonging recreation and outdoor experiences provide. Maddison welcomed us to their facility in Powell to checkout the adaptive equipment they provide and learn more about their programs and services. CLICK to watch the video or view on ReVision's Facebook page.
SHOW YOUR SUPPORT
In addition to volunteer opportunities and contributing a financial donation, the public can support Adaptive Sports Connection by booking a private group kayak experience through the 'Get Out and Kayak' program. For a nominal fee, the group will enjoy a few hours of fun on the water with all equipment and professional instruction included.
ReVision Gives Back is proud to support the long-time nonprofit working to change lives in our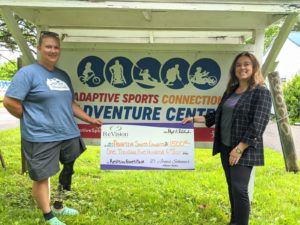 community. Our donation will help tailor a bicycle to fit the specific needs and abilities of a child with a disability so they too can experience the joy and benefits of riding a bike. Learn more about the 'Bikes To Go' program. 
May – a month dedicated to honoring moms and other powerful women in our lives – was the perfect month to support Femergy, a local nonprofit dedicated to empowering females. ...
Read More

→
https://www.revisioneyes.com/wp-content/uploads/2022/04/RGB_ShaunStonerookFdtn_0322.mp4 From the basketball court to a bakery, Shaun Stonerook makes magic happen. One thing you may not know about this Buckeye native is his magic extends to making ...
Read More

→
https://www.revisioneyes.com/wp-content/uploads/2022/04/RGB_Hospets_0222.mp4 The month of February was perfect for ReVision Gives Back to honor Hospets, a local non-profit committed to protecting the loving bond between seniors and their 4-legged friends. ...
Read More

→