Giving a Clear Path for Students to Succeed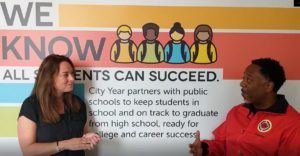 Creating a solid foundation for education is the key to student success. City Year Columbus is committed to helping young learners in Columbus City Schools be successful and stay on course in their educational journey. Working closely with the school district, City Year Columbus identifies students who will benefit from individual help to stay in school and on track to graduate. These students are paired with City Year AmeriCorps members who bring positivity and encouragement into the classroom.
AMERI-CORPS MEMBERS FACILITATE CLASSROOM SUCCESS
Throughout the school year, AmeriCorps members act as mentors and deliver individualized academic support in and outside the classroom while encouraging whole school engagement. Members facilitate the 'ABCs' – Attendance, Behavior, and Corse Work – to help redirect students who are off track. Through guidance, students return to a path directed towards high school graduation and higher education.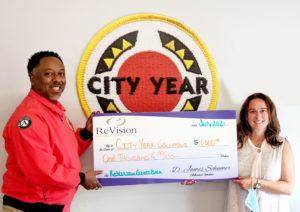 ReVision Gives Back is proud to honor the life-changing work of City Year Columbus. This outstanding non-profit serves over 4,000 students each year in grades K through 12 in eight Columbus City Schools. The group also inspires hundreds of young adults to give back to their communities by joining the AmeriCorps program. Through this program, members gain hands-on experience, insight, and a stipend to further their own educational pursuits.
Learn more about City Year Columbus and how to become an AmeriCorps Member.
https://www.revisioneyes.com/wp-content/uploads/2021/11/RGB_Columbus_Zoo_KickOff_1021.mp4 The sea lions at the Columbus Zoo and Aquarium's Adventure Cove have a unique connection with ReVision LASIK & Cataract Surgery. What's the connection? Vision! Eye Drops Help ...
Read More

→
https://www.revisioneyes.com/wp-content/uploads/2021/10/RGB_Easterseals_0921.mp4 Easterseals Central and Southeast Ohio is dedicated to providing help, hope, and answers to people of all ages and abilities. By creating programming to serve children and adults ...
Read More

→
https://www.revisioneyes.com/wp-content/uploads/2021/09/RGB_EveryKid_0821_USE.mp4 Foster families embody the true meaning of giving every day. They give love, support, a nurturing home, and - perhaps most importantly - hope for a brighter tomorrow. ...
Read More

→