Giving a Clear Path for Students to Succeed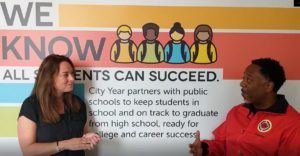 Creating a solid foundation for education is the key to student success. City Year Columbus is committed to helping young learners in Columbus City Schools be successful and stay on course in their educational journey. Working closely with the school district, City Year Columbus identifies students who will benefit from individual help to stay in school and on track to graduate. These students are paired with City Year AmeriCorps members who bring positivity and encouragement into the classroom.
AMERI-CORPS MEMBERS FACILITATE CLASSROOM SUCCESS
Throughout the school year, AmeriCorps members act as mentors and deliver individualized academic support in and outside the classroom while encouraging whole school engagement. Members facilitate the 'ABCs' – Attendance, Behavior, and Corse Work – to help redirect students who are off track. Through guidance, students return to a path directed towards high school graduation and higher education.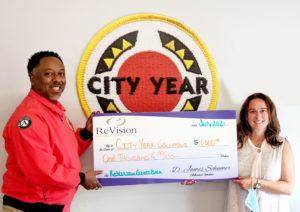 ReVision Gives Back is proud to honor the life-changing work of City Year Columbus. This outstanding non-profit serves over 4,000 students each year in grades K through 12 in eight Columbus City Schools. The group also inspires hundreds of young adults to give back to their communities by joining the AmeriCorps program. Through this program, members gain hands-on experience, insight, and a stipend to further their own educational pursuits.
Learn more about City Year Columbus and how to become an AmeriCorps Member.
https://www.revisioneyes.com/wp-content/uploads/2022/04/RGB_ShaunStonerookFdtn_0322.mp4 From the basketball court to a bakery, Shaun Stonerook makes magic happen. One thing you may not know about this Buckeye native is his magic extends to making ...
Read More

→
https://www.revisioneyes.com/wp-content/uploads/2022/04/RGB_Hospets_0222.mp4 The month of February was perfect for ReVision Gives Back to honor Hospets, a local non-profit committed to protecting the loving bond between seniors and their 4-legged friends. ...
Read More

→
https://www.revisioneyes.com/wp-content/uploads/2022/02/RGB_Choices_0122.mp4 ReVision Gives Back began another year of giving by honoring the nonprofit Lutheran Social Services Choices program. Choices is the ONLY domestic violence shelter in Franklin County offering ...
Read More

→