Envision Positive Choices
ReVision Gives Back began another year of giving by honoring the nonprofit Lutheran Social Services Choices program. Choices is the ONLY domestic violence shelter in Franklin County offering refuge and support to victims of intimate partner violence. In addition to a place to stay, Choices provides clients with valuable resources to rebuild, recover and move forward in a positive direction.
Research shows that 1 in 3 women and 1 in 4 men will experience domestic violence in their lifetime.
This staggering statistic is apparent at Choices by the volume of clients seeking assistance. The shelter typically remains at or above capacity at all times. Choices also provides a 24/7 hotline for victims of domestic violence to call for assistance. Learn the signs to look for that may indicate someone is a victim of domestic violence.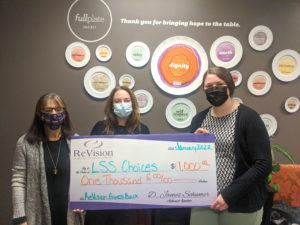 The ReVision Gives Back Donation will help fund the life-changing services Choices provides allowing victims to starting the healing process and envision a new, positive future.
Learn more about this outstanding non-profit and how you can support their mission.
Great things are happening with vision in schools thanks to the Ohio Optometric Foundation (OOF) and their fellow nonprofit vision partnerships. OOF brings three dynamic 'iSee' programs providing vision care ...
Read More

→
https://www.revisioneyes.com/wp-content/uploads/2022/08/Altrusa_Mansfield_KickOff_0722.mp4 The members of Altrusa Mansfield are committed to making Richland County a great place to live, work, and play. The nonprofit leads several community initiatives to provide resources, ...
Read More

→
https://www.revisioneyes.com/wp-content/uploads/2022/07/Franklinton_Cycle_Works_0621.mp4 Summer and cycling go hand-in-hand so honoring Franklinton Cycle Works during the first official month of summer was perfect timing! This unique nonprofit is building more than bikes ...
Read More

→