Giving Back to Camp is the Best Medicine
What if there was a place kids with a severe illness could go and forget – if just for a week – they were sick? They could just have fun and be a kid. Thankfully, this seemingly magical place exists right here in Mt. Gilead, Ohio and brings pure joy to hundreds of children every summer.
Flying Horse Farms is nestled just 30 miles north of ReVision's Columbus practice and 30 miles south of our Mansfield location making it a natural fit to receive support from our ReVision Gives Back Program for the month of February. Flying Horse Farms is a non-profit organization providing magical, transformative summer camp experiences for children with serious illnesses and their families – free of charge. Over 900 children and families participate in camps each year.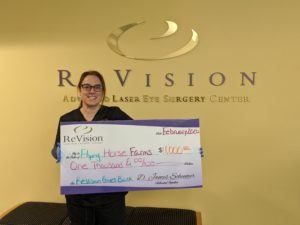 At camp, being sick takes a backseat to being a kid as campers enjoy archery, crafts, high ropes, and more. All activities are fully adapted and medically safe to meet the needs of each child. ReVision's donation will help fund activities that create memorable experiences and happy campers.
Get Involved
Learn more about Flying Horse Farms and how you can support their mission through volunteer and donation opportunities: https://flyinghorsefarms.org/
Great things are happening with vision in schools thanks to the Ohio Optometric Foundation (OOF) and their fellow nonprofit vision partnerships. OOF brings three dynamic 'iSee' programs providing vision care ...
Read More

→
https://www.revisioneyes.com/wp-content/uploads/2022/08/Altrusa_Mansfield_KickOff_0722.mp4 The members of Altrusa Mansfield are committed to making Richland County a great place to live, work, and play. The nonprofit leads several community initiatives to provide resources, ...
Read More

→
https://www.revisioneyes.com/wp-content/uploads/2022/07/Franklinton_Cycle_Works_0621.mp4 Summer and cycling go hand-in-hand so honoring Franklinton Cycle Works during the first official month of summer was perfect timing! This unique nonprofit is building more than bikes ...
Read More

→