Giving Back to the Future of Optometry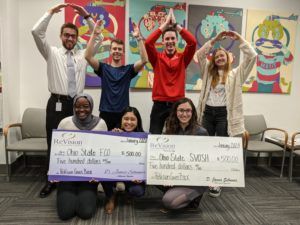 Giving back to future optometrists is the perfect way to kick-off our 2020 ReVision Gives Back program! ReVision is so excited to support two wonderful student volunteer organizations at The Ohio State University College of Optometry; Student Volunteer Optometric Services to Humanity (SVOSH) and Fellowship of Christian Optometrists (FCO). These groups are committed to serving the underserved in countries where vision care is limited.
This fall, SVOSH optometry students will travel to Cambodia for a week-long trip to perform comprehensive eye exams on nearly 1,000 children and adults. Up-and-coming doctors in the FCO organization will return to Jamaica this spring for their annual mission trip partnership with Mission of Sight. While there, students complete eye exams and provide surgical support to surgeons performing sight-saving procedures.
Each trip is an incredible learning experience and opportunity for optometry students to pay it forward by using what they've learned in the classroom. The donation from ReVision Gives Back will help make these trips possible by going towards student travel and lodging expenses. In addition to ReVision's donation, student organizations fund-raise and request monetary support from public and private donors year around to make these yearly trips possible.
Get Involved:
Get to know more about SVOSH and FCO and how these outstanding non-profit student organizations proudly represent The Ohio State University College of Optometry at home and abroad. https://optometry.osu.edu/giving-college-optometry
Halt Violence is a grassroots nonprofit committed to saving lives and changing minds through street mediation. The organization is actually on the streets of Columbus' most violent neighborhoods talking to ...
Read More

→
https://www.revisioneyes.com/wp-content/uploads/2023/09/RGB_Passport2Fashion_Alishia_Designer_0823.mp4 Passport 2 Fashion Founder Aditi Bhatiya wants everyone to know the future of fashion IS ALL OF US. The future of fashion IS YOU. WATCH VIDEO featuring Aditi ...
Read More

→
https://www.revisioneyes.com/wp-content/uploads/2023/09/RGB_SeeKidsDream_Kickoff_0723.mp4 Classrooms around the community can get in on giving back thanks to ReVision Gives Back honoree, See Kids Dream. See Kids Dream is a nonprofit bringing FREE service-based learning ...
Read More

→