Giving Back to the Future of Optometry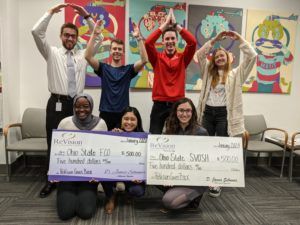 Giving back to future optometrists is the perfect way to kick-off our 2020 ReVision Gives Back program! ReVision is so excited to support two wonderful student volunteer organizations at The Ohio State University College of Optometry; Student Volunteer Optometric Services to Humanity (SVOSH) and Fellowship of Christian Optometrists (FCO). These groups are committed to serving the underserved in countries where vision care is limited.
This fall, SVOSH optometry students will travel to Cambodia for a week-long trip to perform comprehensive eye exams on nearly 1,000 children and adults. Up-and-coming doctors in the FCO organization will return to Jamaica this spring for their annual mission trip partnership with Mission of Sight. While there, students complete eye exams and provide surgical support to surgeons performing sight-saving procedures.
Each trip is an incredible learning experience and opportunity for optometry students to pay it forward by using what they've learned in the classroom. The donation from ReVision Gives Back will help make these trips possible by going towards student travel and lodging expenses. In addition to ReVision's donation, student organizations fund-raise and request monetary support from public and private donors year around to make these yearly trips possible.
Get Involved:
Get to know more about SVOSH and FCO and how these outstanding non-profit student organizations proudly represent The Ohio State University College of Optometry at home and abroad. https://optometry.osu.edu/giving-college-optometry
https://www.revisioneyes.com/wp-content/uploads/2021/10/RGB_Easterseals_0921.mp4 Easterseals Central and Southeast Ohio is dedicated to providing help, hope, and answers to people of all ages and abilities. By creating programming to serve children and adults ...
Read More

→
https://www.revisioneyes.com/wp-content/uploads/2021/09/RGB_EveryKid_0821_USE.mp4 Foster families embody the true meaning of giving every day. They give love, support, a nurturing home, and - perhaps most importantly - hope for a brighter tomorrow. ...
Read More

→
https://www.revisioneyes.com/wp-content/uploads/2021/08/RGB_CityYear_0721.mp4 Creating a solid foundation for education is the key to student success. City Year Columbus is committed to helping young learners in Columbus City Schools be successful and ...
Read More

→