The Healing Power of Horses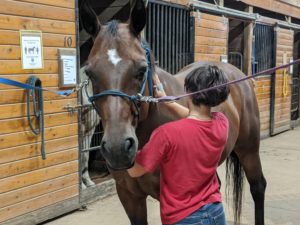 The healing power of horses is pretty amazing and so is Stockhands Horses for Healing a Delaware-based nonprofit providing equine facilitated activities to veterans, adults, and children with developmental, mental, physical, and emotional challenges.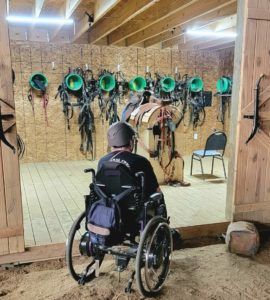 The impressive facility welcomes clients to participate in riding, cart pulling, and other interactive experiences with horses. These nonjudgmental, positive experiences allow those facing various life challenges to feel empowered and build confidence.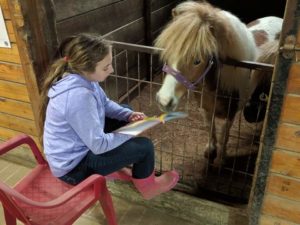 Second Saturday's at Stockhands are filled with Volunteer opportunities and literacy fun. Stockhands relies heavily on volunteer time and hands-on labor to care for horses and keep the facility operational. Adults interested in becoming a volunteer can drop-in for training the second Saturday of each month and do not need any prior experience. Watch a video to learn more about Second Saturdays!
Second Saturdays are also for reading with the horses! Readers of all ages and abilities are welcome to bring a book to the barn and share a great story in a relaxed, pressure-free zone. This literacy experience was created by a local educator and Stockhands volunteer to enjoy reading a book in a relaxed, pressure-free zone. Equines are great listeners!
The ReVision Gives Back donation will support the life-changing programs happening at Stockhands and supplies to care for the horses. To learn more about volunteer opportunities and ways to support this outstanding nonprofit, visit the Stockhands website.
https://www.revisioneyes.com/wp-content/uploads/2023/03/RGB_NCH_ButterflyGuild_Kickoff_0223.mp4 Support families faced with terminal diagnoses and heartbreaking loss - the Butterfly Guild of Nationwide Children's Hospital embraces this incredibly emotional mission. By contributing financial assistance for Hospice & ...
Read More

→
https://www.revisioneyes.com/wp-content/uploads/2023/02/RGB_KickOff_CommunityKitchen_0123.mp4 Fighting food insecurity and providing a place for people to connect. These are the essential services Community Kitchen, Inc. brings to our community. This outstanding nonprofit is committed to a ...
Read More

→
https://www.revisioneyes.com/wp-content/uploads/2023/01/RGB_KickOff_McConnellArts_1222.mp4 The beauty, sound, and creativity of the arts brings joy to so many! ReVision Gives Back is proud to support a local arts center bringing the community together ...
Read More

→