The Healing Power of Horses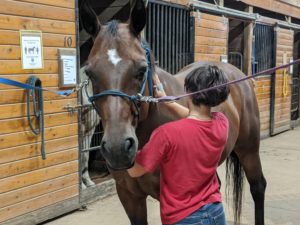 The healing power of horses is pretty amazing and so is Stockhands Horses for Healing a Delaware-based nonprofit providing equine facilitated activities to veterans, adults, and children with developmental, mental, physical, and emotional challenges.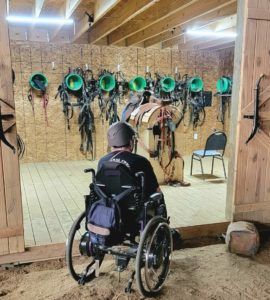 The impressive facility welcomes clients to participate in riding, cart pulling, and other interactive experiences with horses. These nonjudgmental, positive experiences allow those facing various life challenges to feel empowered and build confidence.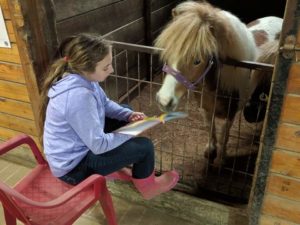 Second Saturday's at Stockhands are filled with Volunteer opportunities and literacy fun. Stockhands relies heavily on volunteer time and hands-on labor to care for horses and keep the facility operational. Adults interested in becoming a volunteer can drop-in for training the second Saturday of each month and do not need any prior experience. Watch a video to learn more about Second Saturdays!
Second Saturdays are also for reading with the horses! Readers of all ages and abilities are welcome to bring a book to the barn and share a great story in a relaxed, pressure-free zone. This literacy experience was created by a local educator and Stockhands volunteer to enjoy reading a book in a relaxed, pressure-free zone. Equines are great listeners!
The ReVision Gives Back donation will support the life-changing programs happening at Stockhands and supplies to care for the horses. To learn more about volunteer opportunities and ways to support this outstanding nonprofit, visit the Stockhands website.
https://www.revisioneyes.com/wp-content/uploads/2023/09/RGB_Passport2Fashion_Alishia_Designer_0823.mp4 Passport 2 Fashion Founder Aditi Bhatiya wants everyone to know the future of fashion IS ALL OF US. The future of fashion IS YOU. WATCH VIDEO featuring Aditi ...
Read More

→
https://www.revisioneyes.com/wp-content/uploads/2023/09/RGB_SeeKidsDream_Kickoff_0723.mp4 Classrooms around the community can get in on giving back thanks to ReVision Gives Back honoree, See Kids Dream. See Kids Dream is a nonprofit bringing FREE service-based learning ...
Read More

→
ReVisionaries LOVE pets and ReVision Gives Back honoree, SOS of Ohio, does too! This outstanding nonprofit provides low cost, high quality veterinary services for pet parents & rescue groups in ...
Read More

→