Helping Children With Life-Threatening Illnesses Be Kids Again
Simply 'being a kid' takes on a special meaning for children who face life-threatening illnesses. Local non-profit A Kid Again makes it their mission to restore a sense of normal for these children, allowing them to be kids and make lasting memories. A Kid Again provides uplifting adventures – totally free of charge – for entire families caring for a child with an illness. Adventures to attractions like the Columbus Zoo, Kings Island, and Magic Mountain allow families to focus on fun.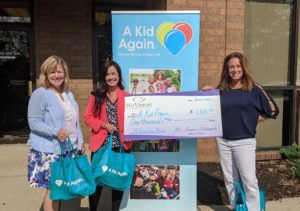 As the June ReVision Gives Back honoree, ReVision was proud to help A Kid Again navigate the ever-changing environment and new safety precautions due to COVID-19. The organization had to re-image how to provide safe Adventures to the immunocompromised children they serve. A Kid Again created a great alternative by providing families with 'Adventures In A Box' to temporarily replace in-person Adventures. The box was filled with gardening kits, outdoor activities and movie night fun designed to bring families together.
To stay connected to the families they serve while keeping a safe distance, families were invited to pick-up their Summer Adventure Box in a drive through parade held in mid-June. A Kid Again volunteers greeted each car with music, ice cream, superheroes, princesses, and jugglers.
The ReVision Gives Back donation will help fund future Adventures In A Box and in-person Adventures to help A Kid Again bring hope, happiness, and healing to thousands of local families each year. Get to know more about A Kid Again and how you can support their mission through volunteer and donation opportunities.
https://www.revisioneyes.com/wp-content/uploads/2021/03/COSI-Connects-promo_compressed.mp4 In a time when everyone is keeping their distance, ReVision Gives Back was excited to honor COSI for thinking 'inside the box' to create unique ways to connect ...
Read More

→
Dr. James Schumer Dr. James Schumer, Founder and Ophthalmologist of ReVision LASIK and Cataract Surgery, recently shared his perspective on the current climate of the COVID-19 pandemic and vaccination process ...
Read More

→
https://www.revisioneyes.com/wp-content/uploads/2021/02/RGB_MegsMissionMam_FINAL_0121.mp4 One in eight women will be diagnosed with breast cancer in their lifetime. This important – and staggering – statistic is often shared by Meg's Mission for Mammograms, ...
Read More

→