Giving On and Off the Field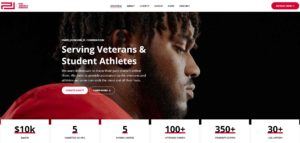 It's truly inspiring when a young, talented athlete makes giving back to the community a priority. Paris Johnson, Jr. decided to do just that and with the help of his mom, created his own nonprofit. The Paris Johnson Jr. Foundation provides support to underserved youth athletes and Veterans, two groups very important to Paris.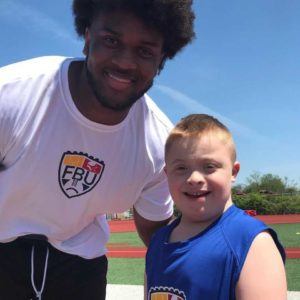 Giving Youth Athletes & Veterans the Tools to Succeed
The foundation is inspiring the next generation of athletes by creating opportunities for young underserved athletes who don't have opportunities to advance their athletic career. Safe football equipment and gear is also provided to athletes in need to help level the playing field. Veterans facing hunger and homelessness also receive support from Paris' foundation through community outreach initiatives. Paris talks to ReVision about his passion for helping these groups in THIS VIDEO, WATCH NOW.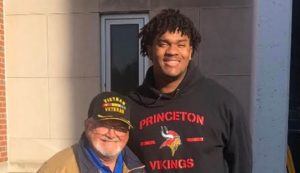 Foundation Receives Special Recognition
Special recognition of Paris' commitment to giving came in November as his foundation earned the 2022 Armed Forces Merit Award for supporting local Veterans. This award is presented to an individual or group within the realm of college football that has a military background or makes an impact on the military community.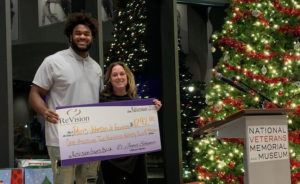 Congratulations to Paris for his accomplishments on and off the college football field! He is a passionate leader destined to make a difference. Our ReVision Gives Back donation will help further Paris' mission of giving to young athletes and veterans.
Learn more about how you can support the Paris Johnson Jr. Foundation by visiting the non-profit's website.
Halt Violence is a grassroots nonprofit committed to saving lives and changing minds through street mediation. The organization is actually on the streets of Columbus' most violent neighborhoods talking to ...
Read More

→
https://www.revisioneyes.com/wp-content/uploads/2023/09/RGB_Passport2Fashion_Alishia_Designer_0823.mp4 Passport 2 Fashion Founder Aditi Bhatiya wants everyone to know the future of fashion IS ALL OF US. The future of fashion IS YOU. WATCH VIDEO featuring Aditi ...
Read More

→
https://www.revisioneyes.com/wp-content/uploads/2023/09/RGB_SeeKidsDream_Kickoff_0723.mp4 Classrooms around the community can get in on giving back thanks to ReVision Gives Back honoree, See Kids Dream. See Kids Dream is a nonprofit bringing FREE service-based learning ...
Read More

→