Reaching Out to Uplift Those In Need
Winter in Ohio can often mean extremely low temperatures, snow, and freezing rain. As the thermometer drops, many of us find shelter from the elements in the comfort of our homes. For those who don't have this opportunity, finding a warm, safe place to combat winter's chill can be challenging.
A Warm, Safe Place to Stay
Stronger By Choice, formerly known as Reaching Out Ministries, is a men's warming shelter located in downtown Mansfield focused on providing this refuge for the homeless population. T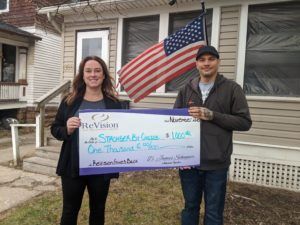 his nonprofit operates solely on the generosity of private donations. Choosing to be privately funded allows Stronger By Choice to provide services to anyone regardless of their ability to provide identification, a requirement of government-assisted shelters.
Those in need can come to the shelter to find safe overnight accommodations with a place to shower, sleep, wash clothes, and receive a nourishing meal; all free of charge. Bedding, toiletries, clothing, and food – including pantry items and home cooked meals – used by guests are provided through donation. Monetary support is often used to pay utility and building maintenance expenses.
ReVision Gives Back's monetary donation will support the shelter's operational expenses. ReVision's Surgery Center also donated several gently used blankets to replenish the shelter's bedding supply. Search 'Stronger By Choice' on Facebook to learn more about how you can give a hand up to someone in need.
https://www.revisioneyes.com/wp-content/uploads/2022/04/RGB_ShaunStonerookFdtn_0322.mp4 From the basketball court to a bakery, Shaun Stonerook makes magic happen. One thing you may not know about this Buckeye native is his magic extends to making ...
Read More

→
https://www.revisioneyes.com/wp-content/uploads/2022/04/RGB_Hospets_0222.mp4 The month of February was perfect for ReVision Gives Back to honor Hospets, a local non-profit committed to protecting the loving bond between seniors and their 4-legged friends. ...
Read More

→
https://www.revisioneyes.com/wp-content/uploads/2022/02/RGB_Choices_0122.mp4 ReVision Gives Back began another year of giving by honoring the nonprofit Lutheran Social Services Choices program. Choices is the ONLY domestic violence shelter in Franklin County offering ...
Read More

→