PAWSitively Outstanding Care for Pets in Need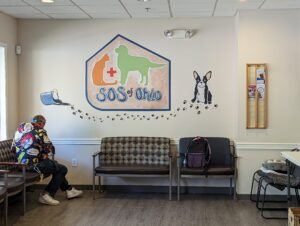 ReVisionaries LOVE pets and ReVision Gives Back honoree, SOS of Ohio, does too! This outstanding nonprofit provides low cost, high quality veterinary services for pet parents & rescue groups in need. WATCH VIDEO to meet Dr. deHaan and learn more about SOS of Ohio's mission.
KEEPING CARE AFFORDABLE
Founded by local veterinarian Dr. Melanie deHaan, the organization began as an affordable spay and neuter clinic with a focus on controlling the pet population. Services quickly expanded to include comprehensive surgical services after recognizing many in the community loved their pets but simply could not afford the medical care necessary to keep them healthy. Unfortunately, this often led to the animals being surrendered to shelters. Through affordable medical services, SOS of Ohio offers pets and their parents a better alternative that allows pets to enjoy a healthy life in the home.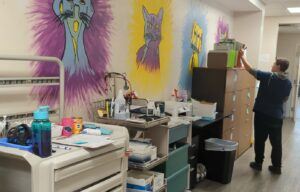 Pet owners are asked to pay what they can for services rendered with many procedures receiving partial funding from SOS's Good Samaritan Fund. Individuals can make donations to this fund to help cover the cost of much needed procedures.
CONTROLLING THE PET POPULATION
SOS of Ohio continues to focus on controlling the pet population through weekly spay and neuter clinics and their ongoing Trap and Release programs for feral cats. Through the TNR program, community volunteers round-up feral cats in the neighborhood and bring them to SOS for spay and neuter services. The cats are then returned to the community to continue living their best life. Dr. deHaan explains the TNR Program and provides a tour of the SOS Surgery Center in THIS VIDEO.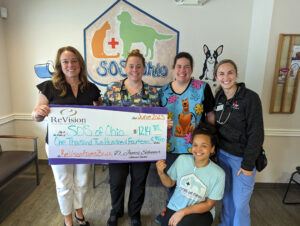 GET INVOLVED
As an extra show of support, ReVisionaries gladly donated items regularly used by SOS of Ohio including blankets, detergent and pet food. The nonprofit has a comprehensive list of in-need items to donate year around. The nonprofit will use ReVision's financial donation to purchase the supplies that allow them to provide the best medical services to animals and pet parents in need.
Learn more about how you can support SOS of Ohio by visiting their website.
https://www.revisioneyes.com/wp-content/uploads/2023/09/RGB_Passport2Fashion_Alishia_Designer_0823.mp4 Passport 2 Fashion Founder Aditi Bhatiya wants everyone to know the future of fashion IS ALL OF US. The future of fashion IS YOU. WATCH VIDEO featuring Aditi ...
Read More

→
https://www.revisioneyes.com/wp-content/uploads/2023/09/RGB_SeeKidsDream_Kickoff_0723.mp4 Classrooms around the community can get in on giving back thanks to ReVision Gives Back honoree, See Kids Dream. See Kids Dream is a nonprofit bringing FREE service-based learning ...
Read More

→
https://www.revisioneyes.com/wp-content/uploads/2023/06/RGB_Stratford_Kickoff_0523.mp4 One of the most beautiful places to explore and connect with nature is Stratford Ecological Center. Bring the entire family to this local nonprofit farm and nature preserve to ...
Read More

→