Tackling Illiteracy with Second and Seven
ReVision Gives Back is proud to support the Second and Seven Foundation's mission to tackle illiteracy! Co-founded by three former Ohio State University Football players – Ryan Miller, Luke Fickell and Mike Vrabel – the 2nd & 7 Foundation brings student athletes into second grade classrooms to pay it forward by reading and giving each student in need a special Hog Mollies book to take home.
The Second and Seven Foundation creates a new Hog Mollies book each year to bring into classrooms featuring an important life lesson for students to embrace. The message is delivered in a fun and engaging way by student athletes who often become role models by showing youngsters that attending college, and perhaps even playing sports at a collegiate level, is possible for their own futures.
Our ReVision Gives Back donation will help bring this important literacy initiative to more classrooms throughout Central Ohio. ReVision strongly believes in the importance of paying it forward. We commend the collaborative efforts of the Second and Seven Foundation and all the student athletes who volunteer time to read to and mentor students in our communities.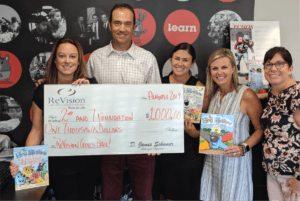 Get to know more about the Second and Seven Foundation and learn how to show your support and bring this amazing literacy initiative into your schools.
Dr. James Schumer Dr. James Schumer, Founder and Ophthalmologist of ReVision LASIK and Cataract Surgery, recently shared his perspective on the current climate of the COVID-19 pandemic and vaccination process ...
Read More

→
https://www.revisioneyes.com/wp-content/uploads/2021/02/RGB_MegsMissionMam_FINAL_0121.mp4 One in eight women will be diagnosed with breast cancer in their lifetime. This important – and staggering – statistic is often shared by Meg's Mission for Mammograms, ...
Read More

→
The first Tuesday in December is known as 'Giving Tuesday', a day to give back to the communities in which we live. ReVision Gives Back couldn't have chosen a more ...
Read More

→