Tackling Illiteracy with Second and Seven
ReVision Gives Back is proud to support the Second and Seven Foundation's mission to tackle illiteracy! Co-founded by three former Ohio State University Football players – Ryan Miller, Luke Fickell and Mike Vrabel – the 2nd & 7 Foundation brings student athletes into second grade classrooms to pay it forward by reading and giving each student in need a special Hog Mollies book to take home.
The Second and Seven Foundation creates a new Hog Mollies book each year to bring into classrooms featuring an important life lesson for students to embrace. The message is delivered in a fun and engaging way by student athletes who often become role models by showing youngsters that attending college, and perhaps even playing sports at a collegiate level, is possible for their own futures.
Our ReVision Gives Back donation will help bring this important literacy initiative to more classrooms throughout Central Ohio. ReVision strongly believes in the importance of paying it forward. We commend the collaborative efforts of the Second and Seven Foundation and all the student athletes who volunteer time to read to and mentor students in our communities.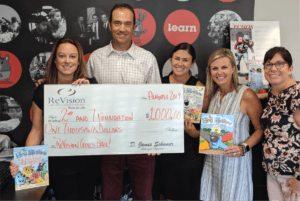 Get to know more about the Second and Seven Foundation and learn how to show your support and bring this amazing literacy initiative into your schools.
https://www.revisioneyes.com/wp-content/uploads/2023/09/RGB_Passport2Fashion_Alishia_Designer_0823.mp4 Passport 2 Fashion Founder Aditi Bhatiya wants everyone to know the future of fashion IS ALL OF US. The future of fashion IS YOU. WATCH VIDEO featuring Aditi ...
Read More

→
https://www.revisioneyes.com/wp-content/uploads/2023/09/RGB_SeeKidsDream_Kickoff_0723.mp4 Classrooms around the community can get in on giving back thanks to ReVision Gives Back honoree, See Kids Dream. See Kids Dream is a nonprofit bringing FREE service-based learning ...
Read More

→
ReVisionaries LOVE pets and ReVision Gives Back honoree, SOS of Ohio, does too! This outstanding nonprofit provides low cost, high quality veterinary services for pet parents & rescue groups in ...
Read More

→