Non-Profit Pairs Food with Freedom
With a mission to provide hope to survivors of human trafficking, this non-profit is changing lives by pairing freedom and food. Freedom A La Cart began as a full service catering company providing employment opportunities for human trafficking survivors. During the COVID-19 pandemic catering opportunities decreased drastically. In response, the non-profit added a weekly home delivery meal service that allowed survivors to remain engaged and continue building job skills. Watch as Paige from ReVision and Bekah from Freedom a la Cart share more about this outstanding non-profit.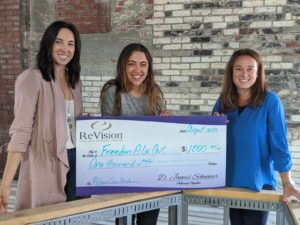 ReVision Gives Back is proud to support Freedom A La Cart and its solution-based thinking to make home delivered meals more meaningful. In addition to meeting the needs of survivors, the new meal delivery service is also a safe and delicious way for the community to continue enjoying Freedom's amazing meals. Each Chef-designed meal is made from fresh local ingredients and brought to your door with no contact delivery.
New Freedom a la Cart Cafe Opening in Downtown Columbus
In more exciting news, the first brick and mortar Freedom a la Cart restaurant is coming to downtown Columbus in the January 2021. This location will serve as the hub for the non-profit's meal delivery and catering programs, as well as an eat-in café and meeting space as COVID-19 safety precautions allow.
ReVision's donation will help Freedom A La Cart continue to provide services and self-sufficiency to human trafficking survivors in our community. Place meal delivery orders, schedule catering services, and learn how to support Freedom's mission by visiting their website: https://freedomalacart.org/
May – a month dedicated to honoring moms and other powerful women in our lives – was the perfect month to support Femergy, a local nonprofit dedicated to empowering females. ...
Read More

→
https://www.revisioneyes.com/wp-content/uploads/2022/06/RGB_Adaptive_Sports_Connection_KickOff_0422.mp4 Enjoying the great outdoors is therapeutic and an automatic mood booster. Riding a bicycle, paddling a canoe, and feeling the spray of water while waterskiing are activities that ...
Read More

→
https://www.revisioneyes.com/wp-content/uploads/2022/04/RGB_ShaunStonerookFdtn_0322.mp4 From the basketball court to a bakery, Shaun Stonerook makes magic happen. One thing you may not know about this Buckeye native is his magic extends to making ...
Read More

→