Non-Profit Pairs Food with Freedom
With a mission to provide hope to survivors of human trafficking, this non-profit is changing lives by pairing freedom and food. Freedom A La Cart began as a full service catering company providing employment opportunities for human trafficking survivors. During the COVID-19 pandemic catering opportunities decreased drastically. In response, the non-profit added a weekly home delivery meal service that allowed survivors to remain engaged and continue building job skills. Watch as Paige from ReVision and Bekah from Freedom a la Cart share more about this outstanding non-profit.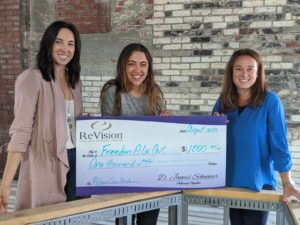 ReVision Gives Back is proud to support Freedom A La Cart and its solution-based thinking to make home delivered meals more meaningful. In addition to meeting the needs of survivors, the new meal delivery service is also a safe and delicious way for the community to continue enjoying Freedom's amazing meals. Each Chef-designed meal is made from fresh local ingredients and brought to your door with no contact delivery.
New Freedom a la Cart Cafe Opening in Downtown Columbus
In more exciting news, the first brick and mortar Freedom a la Cart restaurant is coming to downtown Columbus in the January 2021. This location will serve as the hub for the non-profit's meal delivery and catering programs, as well as an eat-in café and meeting space as COVID-19 safety precautions allow.
ReVision's donation will help Freedom A La Cart continue to provide services and self-sufficiency to human trafficking survivors in our community. Place meal delivery orders, schedule catering services, and learn how to support Freedom's mission by visiting their website: https://freedomalacart.org/
https://www.revisioneyes.com/wp-content/uploads/2021/10/RGB_Easterseals_0921.mp4 Easterseals Central and Southeast Ohio is dedicated to providing help, hope, and answers to people of all ages and abilities. By creating programming to serve children and adults ...
Read More

→
https://www.revisioneyes.com/wp-content/uploads/2021/09/RGB_EveryKid_0821_USE.mp4 Foster families embody the true meaning of giving every day. They give love, support, a nurturing home, and - perhaps most importantly - hope for a brighter tomorrow. ...
Read More

→
https://www.revisioneyes.com/wp-content/uploads/2021/08/RGB_CityYear_0721.mp4 Creating a solid foundation for education is the key to student success. City Year Columbus is committed to helping young learners in Columbus City Schools be successful and ...
Read More

→