Creating Meaningful Experiences for Children Facing Vision Loss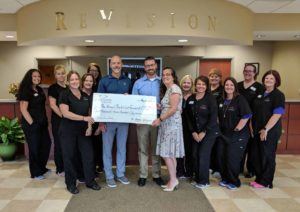 Through the ReVision Gives Back program, ReVision LASIK and Cataract Surgery is proud to make a donation to The Visual Bucket List Foundation located in Mansfield, Ohio. This non-profit foundation provides unique 'bucket list' experiences for children with severe visual impairments to create special visual memories that will last a lifetime.
Steve and Christine Myers founded the non-profit after their daughter, Lizzie, was diagnosed with Usher Syndrome Type 2A at the age of five. After experiencing a generous pay-it-forward gift within their own family, the Myers were inspired to continue the giving by raising funds to provide experiences to other families and children facing severe or total vision loss.
To raise awareness and additional funds for great works of The Visual Bucket List Foundation, ReVision launched a 'Video Views for Dollars' Facebook campaign. Steve and Paige York, Director of Development at ReVision LASIK & Cataract Surgery, created a video sharing the mission of The Visual Bucket List and posted it on Facebook asking viewers to watch and share the video. For every video view received within a 24-hour period, ReVision pledged to make a matching dollar donation.
Within 24-hours of posting the video on ReVision's Facebook page, it reached 4,075 Facebook users, was shared 81 times and viewed 1,757 times. This amazing social media engagement helped bring even more awareness to this wonderful non-profit!
ReVision is proud to match all 1,757 video views and make $1,757 donation to The Visual Bucket List Foundation. Our donation will help fund a very special Disney World Princess-themed trip to the Disney World Parks for two local Mansfield girls facing diagnoses of total vision loss. During this trip, the girls will have the opportunity to experience the wonders of Disney, meet the princesses and create lasting memories.
ReVision LASIK and Cataract Surgery appreciates the amazing difference clear vision makes in daily life. Our team is dedicated to providing the best possible outcomes for every LASIK, cataract and cornea procedure we perform. ReVision thanks The Visual Bucket List Foundation for creating meaningful experiences for those facing debilitating vision loss and valuing the gift of sight as much as we do.
https://www.revisioneyes.com/wp-content/uploads/2023/05/RGB_FriendsOfCASA_KickOff_0423.mp4 Friends of CASA Franklin County is a tremendously important nonprofit that supports CASA of Franklin County. CASA, which stands for Court Appointed Special Advocates, is a group of ...
Read More

→
https://www.revisioneyes.com/wp-content/uploads/2023/04/RGB_AlphaHouse_KickOff_0323.mp4 A Holistic Approach to Addiction Millions of Americans struggle with substance abuse. AlphaHouse is dedicated to helping men and women win this very personal battle. AlphaHouse currently has ...
Read More

→
https://www.revisioneyes.com/wp-content/uploads/2023/03/RGB_NCH_ButterflyGuild_Kickoff_0223.mp4 Support families faced with terminal diagnoses and heartbreaking loss - the Butterfly Guild of Nationwide Children's Hospital embraces this incredibly emotional mission. By contributing financial assistance for Hospice & ...
Read More

→